OK... for all you music geeks out there. It's your chance to list your top 5 favorite guitarists. First of all, let me say that my choices are probably not the "traditional" favorites. I don't particularly enjoy blues or straight-up rock, so you won't find any Hendrix or Stevie Ray Vaughn on this list. My "sound" is more along the lines of alternative guiatar, with plenty of atmospherics; I appreciate the guys who can create a tone. Here are mine, with expanded notes and ruminations.
1. The Edge from U2
Otherwise known as Dave Evans, this guy is my favorite, hands-down. He took what had been done before him and created his own sound. Using plenty of effects, no doubt, The Edge has created some of the most beautiful soundscapes on record. He uses tons of pedals. His sound is huge, with effective use of echo. I'm sure most of you have heard U2 (!!), but if not, be sure to listen to their work on headphones. My favorite album of theirs to hear Edge's work is 1984's "The Unforgettable Fire."
2. Jonny Greenwood from Radiohead
I first noticed JG as a guitarist on his own after listening to "The Bends" in my college apartment in 1995. It was an awesome album and still stands as my favorite of theirs today. Greenwood can make some amazing sounds come out of his guitar. His work is complex and fits in nicely with Radiohead's experimental nature. Listen to "Just" from "The Bends" to hear this guy's chops. J. Greenwood is sure to be a legend.
3. Johnny Marr from The Smiths
Yet another Johnny on the list. This guy is an icon. He has created some of the classics of late 80's/early 90's British alternative music. His sound is highly melodic. Marr pioneered much of the "alternative" sound of his era, using effects to make new sounds. His guitar work is sometimes referred to as "jangly." One of the best examples of his unique sound is the song "How Soon is Now?" Johnny Marr is currently playing in the band, Modest Mouse.
4. Brian Futter from Catherine Wheel
Brian Futter is one amazing guitarist. His style is sometimes called "shoegazing." Using large amounts of distortion, reverb, and echo, his work can make it seem like a "wall of sound" is being created. CW has a brutal sound, at times, and Futter's work shines through. Their most well-known song is "Black Metallic." If you want to hear a showcase of the guitarwork, I would recommend the song, "Strange Fruit," or "Crank."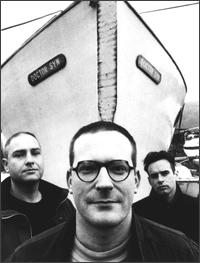 5. Julian Swales from Kitchens of Distinction (he's on the right)
Probably the least-known of all the guitarists listed here, Julian Swales deserves some recognition, nonetheless. His sound is characterized by a swirling, chiming, echo-laden vibe. He was also grouped into the "shoegazing" class of music. Extremely atmospheric, Swales sounded like several guitarists layered over each other, even though it was just his one-man show. Many of his songs have such a chaotic, blisteringly beautiful sound, especially on headphones, where you can hear all the little details. Check out the songs, "When in Heaven," "Sand on Fire," and "Mad as Snow."
***** Honorable Mention: Kevin Shields from My Bloody Valentine; John Squire from The Stone Roses; Dean Garcia from Curve; Jez Williams from Doves; Graham Coxon from Blur; John McCollum from The Afghan Whigs; Thurston Moore from Sonic Youth; Andy Dunlop from Travis; Cammy from The La's; Joey Santiago from The Pixies ******